Let's talk about hashtags for Instagram. Hashtags are one of the best ways for people to find your photos so they're pretty important. If you want people to like your photos they have to be able to find them first!
You might be using them already but there is a way to find the best hashtags instead of just using any old hashtags that come to mind…
When someone is searching for trending hashtags, they will see the photos that people used that hashtag on. Choosing the right hashtags is super important if you want to grow your Instagram and get more engagement on your posts!
I've already shared the exact steps I use to find the right hashtags and today, I'm giving you a complete list of the best hashtags for Instagram likes that will increase your engagement on every post!
RELATED READING: 150+ Best Instagram Hashtags for Every Niche
Hashtags For Instagram #Likes (2023)
Copy & paste from the list below and add these trending hashtags for Instagram likes to your Instagram posts to increase your engagement. Be sure to bookmark this post and share it with a friend!
#smileoftheday
#instamood
#likes4likes
#likesforlikes
#likesplease
#keepsmiling
#likesforfollow
#likesback
#likes4tags
#like4tags
#smilealways
#happy
#likestagram
#likeslikeslikes
#like4follow
#love
#likesfortags
#commentforcommen
#likesme
#likeback
#likesforlike
#likesreturned
#instasmile
#likebackteam
#likes4follow
#likess
#topliketags
#comment4commen
#follow_4_follow
#liking #likeall
#likes4follows
#likeswww4follow
#ifollowback
#likeseriously
#likesisters
#likespam
#likesforspam
#like4follower
#likesforshoutout
#like4comment
#followmeback
#likes4like #follow_back
#likeforcomment
#likesmagazine
#likeforafollow
#likeforshare
#likeforashoutout
#likeforfollowback
#likeforlikesfromme
#likealways
#likeforlikes
Are you ready to take your Instagram to the next level? Be sure to use 15-25 hashtags for Instagram likes on every post and you will start to see the results you're looking for.
You have to be consistent to make you are posting at least a few times a week and trying all different kinds of post ideas to engage your audience.
Love hashtags? Check out them all below:
The Best Tool for Optimizing Hashtags & Scheduling Posts
One of the things I always used to wonder about is when to post on Instagram. Now with Tailwind for Instagram, I never have to guess! They'll help you pick the best times to post based on when your audience is most engaged so you can get the most engagement possible from each post!
Tailwind's Hashtag finder allows you to get the perfect mix of hashtags for every photo. I use this feature every time I post on Instagram!
RELATED READING: How to Use Tailwind For Instagram to Optimize Hashtags & Schedule Posts
It will give you relevant hashtag suggestions and tell you the quality of the hashtag based on how many posts it already has. There's no point in using a hashtag that has millions of posts already because your photo will likely get lost in the crowd.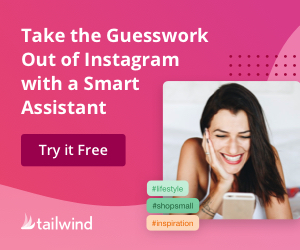 You can also save hashtag lists so you can use them later on similar posts and if you'd rather your hashtags not be published in your caption, Tailwind for Instagram can automatically publish them as the first comment!
Try it for FREE through this link! It will change the way you use your Instagram forever!
Did you find this article helpful? Pin this to Pinterest ↙