Let's talk about hashtags for Instagram. Hashtags are one of the best ways for people to find your photos so they're pretty important!
You might be using them already but there is a way to find the right ones instead of just using any old hashtags that come to mind…
When someone is searching for a hashtag, they will see the photos that people used that hashtag on. Choosing the right hashtags is super important if you want to grow your Instagram and get more engagement on your posts!
Today, I'm giving you the exact steps I use to find the right hashtags for my Instagram photos every time!
How to find the RIGHT hashtags for Instagram:
1. Find some accounts that are posting content similar to what you will be posting and see which hashtags they are using. Don't copy them exactly but instead take note of the ones that are the most relevant to you and save them in the notes on your phone.
2. Once you have a few to start with you can use the Instagram search bar to find more. Type in one hashtag and search it. You will see a line of related hashtags that you can add to your list. Then if you want to make sure they are the best and most relevant you should…
3. Use the Tailwind hashtag finder tool to make your hashtag research lightning-fast and make sure you are choosing hashtags that will get you the most engagement possible. I use this tool every time I post a photo to my account!
Hashtag Finder + Hidden Hashtags
Tailwind's Hashtag finder allows you to get the perfect mix of hashtags for every photo.
It will give you relevant hashtag suggestions and tell you the quality of the hashtag based on how many posts it already has. There's no point in using a hashtag that has millions of posts already because your photo will likely get lost in the crowd.
You can also save hashtag lists so you can use them later on similar posts and if you'd rather your hashtags not be published in your caption, Tailwind for Instagram can automatically publish them as the first comment!
Try Tailwind Free Trial
The best part? You can use this feature for FREE, right now, today!
If you'd like to try it out today, you can get a FREE TRIAL for Tailwind through this link. You won't even have to enter your credit card information so there's no risk! I know if you try it out today you're going to love it!
Plus if you're looking to achieve the perfect hashtag strategy and build more consistency on Instagram you should definitely give Tailwind for Instagram a try for even more amazing features! If you pay annually it will only cost you $9.99 per month ( $119 per year.) If you want to pay on a monthly basis, it will cost $15 per month.
It's totally worth it for all the amazing features you'll have access to like knowing when to post, which hashtags to use, and auto-posting.
For more info about Tailwind for Instagram read this post!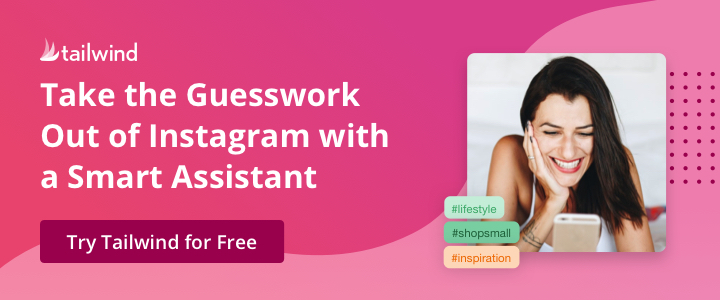 Pin this for later ↙