Are tired of waking up with a tight neck and stiff back? I struggle with TMJ flareups from time to time and know too well the feeling of waking up in pain. The best thing you can do to work on this issue is to get a new pillow!
Finding a pillow that is specific to your problem whether it be a pillow for TMJ, back pain, neck pain, or something else, you will feel more rested when you find the right pillow.
If you're looking for a new pillow that covers it all the Zamat Pillow may be just what you've been searching for.
Disclaimer: I was gifted products for this review. This article is for informational purposes only. This is not medical advice. I am not a doctor. All opinions are my own.
In this review, I'll be going over everything you need to know about the Zamat Pillow and how it can help you get a more restful and comfortable night's sleep plus another great tool for alleviating neck pain fast!
What is the Zamat Pillow?
So what is the Zamat pillow? The Zamat Butterfly Button-Shaped Cervical Pillow is a specialized pillow designed for supporting the neck and head while sleeping. This is an important feature for people who suffer from sleep-related neck, back, or jaw pain.
It features a unique butterfly-shaped button design to provide proper alignment of the cervical spine, reducing pressure and promoting comfort.
Works For All Sleep Positions
The coolest part about the Zamat Pillow it works for any sleeping position. Whether you're a side sleeper, a back sleeper, or a stomach sleeper, this pillow will provide the support you need to keep your spine in a neutral position. This can help to alleviate pain and discomfort in the neck, shoulders, and back.
Washable Cover and Adjustable Height
Another great feature of the Zamat Pillow is its removable and washable cover. Not only does this make it easy to keep the pillow clean, but it also allows you to adjust the firmness of the pillow to your liking. Simply remove or add the foam inserts to achieve your desired level of support.
With a normal pillow, you may be sleeping either too low or too high on the pillow and that can contribute to neck and back pain.
Instead of using a regular pillow that may provide a poor sleeping experience to improper height, you can use the Zamat pillow and pick your height by removing the insert when needed. You will sleep so much better!
My Review of the Zamat Pillow
I've been sleeping on the Zamat pillow for a while now and I love it! When I opened the package there was no smell whatsoever which is great.
I took out the height adjustment piece to make it the smaller size because I have a smaller frame and it was the perfect height. I mostly sleep on my side so I use the side sleeping position and it helps me keep my body in alignment so I don't end up grinding my teeth at night for walking up with neck pain.
I also love that they only use premium CertiPUR-US® certified foams in their pillows. I am always looking for a nontoxic option for the products I bring into my home so CertiPUR is always a must for me!
CertiPUR foam is made without ozone depleters, leads, and formaldehyde and is regulated by the Consumer Product Safety Commission so you don't have to worry about what's in your pillow and you can focus on getting a great night's sleep.
Overall, I think the Zamat Pillow offers a great option for anyone who is looking for more support and comfort from their pillow. It also works for any sleeping position and is super easy to clean compared to other foam pillows. It's also very affordable which is always a plus!
If you want to try the Zamat pillow for yourself you use code JU5 to can take $5 off the already discounted Day & Night Neck Pain Relief Combo which comes with the Zamat pillow and neck traction pillow!
NEW Bluedott Ultra Button Pillow Review
As someone who values their sleep and the comfort at night, I recently had the chance to try out the Bluedott Ultra Button Pillow from Zamat Home and compare it with the Zamat pillow I mentioned above.
From the moment I laid my head on this pillow, I could feel the difference. My first thought was that it is much softer than the other Zamat pillow so if you're looking for a softer pillow this is for you!
The pillow's unique design, featuring a series of strategically placed buttons, allows for customizable support and height. This is great because it means you won't be constantly fluffing and folding your pillow to get the right angle. The Bluedott Ultra Button Pillow effortlessly adapts to your preferred sleeping position.
The memory foam filling contours to the head and neck which makes it very supportive.
One concern I had was whether the buttons would be noticeable while sleeping. No need to worry because they are seamlessly integrated into the design and do not cause any discomfort whatsoever.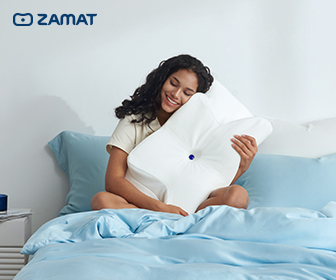 Cleaning is a breeze, too. The pillow comes with a removable and machine-washable cover, which is a huge plus for maintaining a clean and hygienic sleeping environment.
Overall, the Bluedott Ultra Button Pillow is a wonderful pillow for comfort and support. In comparison to the previous Zamat pillow it is just as supportive but a bit softer so if you like a firmer pillow you should get the one above and if you like soft you should go with this one! You can use code BD15 for 15%OFF with minimum purchase of $35!
Say Goodbye to Neck Pain
If you deal with any kind of neck pain or headaches you have to try the Zamat NekGenic™ Cervical Traction Neck Pillow. I have been using it any time my neck gets tight or I have a headache and I am very impressed with the results!
When you first lay down on the pillow you can tell it is going to help you. If your neck is very tight or you have a headache it may even feel a little tender when you lay on it.
Be sure to align your neck comfortably and let yourself sink down into the pillow, relaxing all of the muscles in your body. Lay on the pillow for 10 min and you will notice a huge difference.
The pillow has a unique shape that supports the neck and also evenly distributes pressure to reduce muscle strain. The cervical traction helps you stretch and align the spine and you can feel immediate relief after using it!
It also comes with magnetic therapy. This means the pillow has magnets in it that help increase blood flow and oxygen to your neck, which helps to reduce inflammation and promote healing. I use it any time I have a headache or feel neck pain!
If you want to try the neck traction pillow for yourself you use code JU5 to can take $5 off the already discounted Day & Night Neck Pain Relief Combo which comes with the Zamat pillow and neck traction pillow!
Wrapping Up Zamat Pillow Review
Overall, the Zamat Pillow is a great option for anyone looking for a pillow that offers a combination of comfort and support, works with any sleeping position, is easy to keep clean, has a unique design, and is reasonably priced.
If you're ready to upgrade your pillow and start waking up feeling refreshed and relaxed, the Zamat Pillow is a perfect choice for you!